My mom posted this
cute cupcake
idea on Facebook.
So I went to
Sugar And Meringue
, and saw the cutest baked goods! I couldn't believe how sweet everything looked.
Look at these
button cookies
. They may be my favorite cookie ever.
I was just drooling, looking at the posts, knowing I have neither the equipment or talent to make any of them. Then I came across
these waffle cookies
.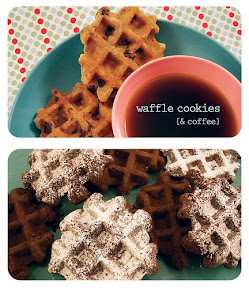 Now, I do have a waffle iron. True, the one time I used it was a disaster. The batter stuck and burnt and I had to scrape the whole thing clean for a ridiculous amount of time and I swore off homemade waffles in frustration. But maybe because I had spent the past 30 minutes looking at pretty cookies I had absolutely no chance of making, I was willing to break out the old waffle iron for one I had a
slight
chance of making.
The concept was to make up a cookie recipe you like, then instead of baking them, pop them in the waffle iron and have them done in 90 seconds. Easy!
I wanted to try this low-calorie chocolate cookie recipe,
mostaccioli
. So Suzy and I whipped up a batch as a mother-daughter project. It would be a fairly easy recipe normally, but baking with Suzy is like having an affectionate monkey in the kitchen with you. Flour and cocoa get scattered everywhere. A little blond curly head bobs up and down incessantly at my elbow. That's only in the first 45 seconds. When she gets bored, at about the 50 second mark, she begins hanging from around my neck like one of those stuffed monkeys with velvro paws.
But I knew how sad and empty the house was the week she was gone, so I didn't mind! Still, when I plugged in the waffle iron, I gave her a jar of Nerds candy to go eat so she wouldn't hang around and burn herself. I am only a little bit embarrassed that I throw out candy to distract my child. A little bit more embarrassed that I had a
jar
of Nerds. Very embarrassed that I know longer have a jar of Nerds, and that my child spent the afternoon weeping from the sugar crash. Learn from my mistakes!
So here's what I did while my child was ruining her teeth:
You just plop a cookie scoop or tablespoon of dough in each section of the iron. Close it up, and in 90 seconds (but I didn't even time it) you have cookies! Like these: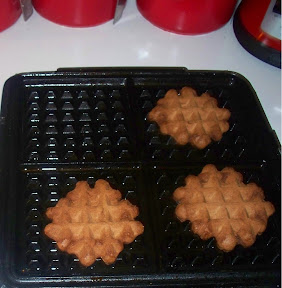 The missing one just stuck a bit to the top iron, but came right off.
Suzy's tasting one. She's thinking about it...
She totally posed for this, the little ham. She didn't like it really! Maybe her taste buds were singed from Nerd overload.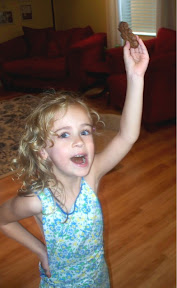 And here they are all on a platter. The recipe calls for a chocolate glaze, but I was out of powdered sugar, so they are bare. They're not very sweet without it. I think they go great with coffee, but they won't be very popular with my family unless I get them iced. Maybe I can convince them to use maple syrup!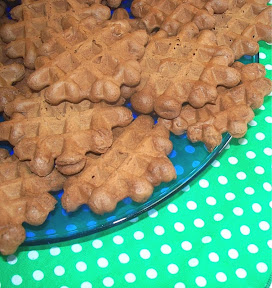 I will definitely make these again, when I have
all
the ingredients to make the chocolate glaze. I want to try other cookie recipes in the waffle iron too. If I get one that's a hit, I'll let you know!