I thought I'd show a few little hats I've knitted lately. These pictures would be cuter if I had an actual baby to model the hats! Maybe one day!
This one was supposed to be a bear. I think it looks more like a little pointy-eared fox.
This one will stretch over the baby's head - it won't look like a bulb on top of the baby's head, I promise!
And my favorite, the Sweetie Pie hat.
I took knitting up again this year. I like that it's a portable hobby that I can do easily in the car - when I'm not the driver, of course! Also, I haven't sewed since last fall, because my sewing room is in a state of shameful disarray. Hopefully that will be whipped into shape this week. But I think I'll keep knitting just the same...my sewing machine is just too unwieldy in the car.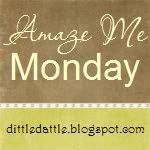 And I wish I could post a cute button linking back to this blog, but I couldn't find the code. I don't know if that's an iPad problem or a user problem! So I linked up to Creative Me Monday at
The Southern Institute
.